Since publishing Wilfred W's 1943 sobriety card on page 12 of the Back to Basics book, we have received numerous requests to issue a similar card at our Back to Basics seminars. Since we are striving to make Back to Basics as accurate a re-enactment of a series of 1946 AA Beginners' Meetings as possible, we have decided to start issuing an exact reproduction of Wilfred's card.
Ellie van V., a Back to Basics pioneer from Ottawa, Ontario, Canada, designed the cards that we issued at the Back to Basics seminar in Nashville, TN. The response was overwhelmingly positive.
This is a copy of the card that Ellie designed and distributed in Nashville, TN.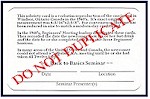 Click on image for a detailed view
In order to insure that the cards help produce the results that were obtained in the 1940's (namely a 50-75% recovery rate from alcoholism), we are going to issue these cards only at Back to Basics seminars and to Back to Basics Meeting Leaders so they can distribute them to those who have taken all Twelve Steps in the four one-hour sessions.

The cards are priced at $0.15 each (min. order qty is 50 cards) plus shipping and handling.
To order click here


.