The Back to Basics program continues to evolve. Based on what has been observed and/or described at the various Meetings and Groups throughout the world, Wally P. has seen a pattern emerge. The people who are most successful at "life changing," i.e. taking newcomers through the Twelve Steps and witnessing the miracles, are those who have sharing partners, are members of a local Back to Basics Home Group and are involved in yearly Back to Basics conferences...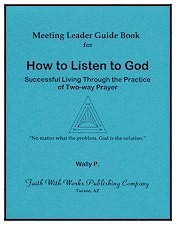 How To Listen to God - The Program
Since its publication in December 2000, those seeking a spiritual way of life have enthusiastically received the How to Listen to God book. Many of you have made telephone calls or sent e-mails suggesting how the concept of two-way prayer first described in the four-page "How to Listen to God pamphlet" could be expanded into a complete program of recovery, renewal and rebirth...


Back to the Basics of Recovery - The Program
2015 version of the 1946 Back to Basics A.A. Beginners' Meetings, specifically rewritten for use in treatment centers, aftercare facilities, half-way houses, recovery homes, correctional facilities, and Twelve-Step meetings. PowerPoint slides are available to enhance the recovery experience.
This 150 page, three-ring binder contains all the materials necessary to take people through the Twelve Steps in four, forty-five minute sessions. This Meeting Leader Guide has been modified to apply to all addictions / compulsive behaviors. This is truly a program for "anyone or everyone interested in a (new) way of life."