James H.-Words of Wisdom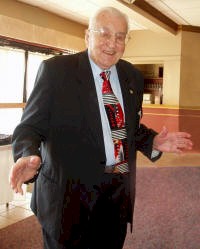 James H. is one of the most dynamic and powerful speakers within the recovery community today. He shares his story at conferences, conventions and workshops, not just because he is 97 years old, has a sobriety date of 12-12-34, attended Oxford Group meetings with Bill W. from 1935-1937, is intimately familiar with the source material used to write the "Big Book", and has witnessed the changes that have taken place in the 12-Step movement since its inception, but because his story is an inspiration to us all.
During his 68 years on this spiritual path, James has acquired considerable insight and wisdom, which he freely conveys when he is at the podium. For those who may not get the chance to see James H. in person or listen to his audiotapes, we have compiled some of the "gems" that James has passed along over the years.
The idea is always to narrow the gap between what we believe and the way we live. (added 9/8/03)

We can rise above our past and make a difference, or we can allow ourselves to be controlled by the past and make excuses.

Most people have enough religion to make them decent but not enough to make them dynamic.

God can't heal what we won't reveal.

We can climb to the top of the ladder, only to find that it is leaning against the wrong wall.

There's nothing wrong with being a good person; but there is a great danger that, in doing so, we can become good for nothing.

What we think, say and do either makes us part of the problem or part of the solution--part of the disease or part of the cure.

To overcome addiction, we follow a process of Hate, Forsake, Confess and Restore. First, we must Hate the substance or behavior that has control over us. We Hate what it has done to us; to our family; to our friends. Once we Hate the habit, we can then Forsake it, Confess to others where we have fallen short of the mark, and ask God to Restore us to our former selves.

It is not who's right, but what's right.

If it's not worth giving away, it's not worth having.

Yes, you can change the world. The way you do it is by changing yourself.

You can't give away something you never had.

You have to give as much of yourself as you can to meet the needs of others.

This is the formula for life-changing. You have to gain someone's Confidence, offer your Confession which brings Conviction, witness the person's Conversion, and then Continue to help that person change others.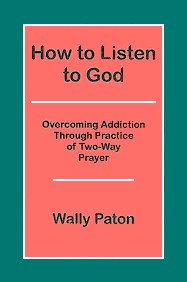 Many more James H. "Words of Wisdom," plus biographical information and the original program of recovery as practiced by Bill W., Dr. Bob and the A. A. pioneers can be found in How to Listen to God.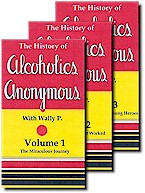 To learn more about the events leading up to and following the foundation of A. A., please watch and enjoy "The History of Alcoholics Anonymous"
Ideal for Twelve-Step Groups, Treatment Centers, Correctional Facilities, Aftercare Programs, as well as anyone interested in the history of "The Greatest Spiritual Movement of the Twentieth Century."


DVD I - The Miraculous Journey contains: AA's Ancestors, AA's Four Founding Moments, How the Big Book was Written, and Early Publicity.

DVD II - AA in the 1940's - Why it Worked contains: AA's Meeting Formats, The Beginners' Meetings, Sponsorship, 4th Step Inventory, 11th Step Prayer and Meditation, and 12th Step Working with Others.

DVD III - AA Pioneer Stories and Unsung Heroes contains: Joe-Look Magazine 1945; Unsung Heroes Anne Smith and Sister Ignatia; Pioneer Stories of Rollie Hemsley, Fitz M, and Jimmy B; The Springfield Seven; Judge John T; and more about the co-founders Bill W (The Visionary) and Dr. Bob S. (Keep it Simple).



Home
Online Shopping Carts - Please Note: We have added additional Priority shopping carts to separate the different programs offered!
.
DVD's (Back to Basics 101, The James H DVD's), CD Workshops (Back to Basics, Back to the Basics of Recovery, Sponsorship, 4 Spiritual Activities, Nutrition) and others
have been moved to the "DVD's, CD's, and Other Digital Media" Bookstore.
.
Back to Basics Bookstore (U.S. Only) · Back to Basics Priority Mail (U.S. Only) · Back to the Basics of Recovery Bookstore (U.S. Only) · Back to the Basics of Recovery Priority Mail (U.S. Only) · How to Listen to God Bookstore (U.S. Only) · How to Listen to God Priority Mail (U.S. Only) · DVD's, CD's, and Other Digital Media · Quantity Discounts (Media Mail-US Only) · Canada Bookstore · Overseas Bookstore · Donations
Materials
B2B Book · B2B Program · B2B Recovery Model · HTLTG Book · HTLTG Program · Printable Mail/FAX Order Form
Assistance
Back to Basics Seminar Information · Upcoming Seminars · Back to Basics Meetings · Treatment Centers · Sharing Partners · Contact Info
Information
Testimonials · Articles · History · Links · James H · Wally P · Dr Bob Archives · Southwest Archives · Feedback · B2B Foundation
The following are keywords we use to help people find us:
back to basics, oxford group, alcoholism, addiction, alcoholics anonymous, aa, twelve steps, 12 steps, aa history, bill w, dr bob, james h, how to listen to god, back to the basics of recovery, back to the basics of nutrition, the greatest spiritual movement, wellness, nutrition, spiritual, four spiritual activities, 4 spiritual activities, oxford group, recovery, recovery dvds, recovery books, recovery cds,
Copyright © 1997-2018 Faith With Works Publishing Co. - 20 years of service-August 2017