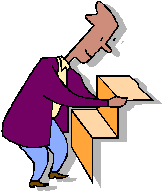 On numerous occasions, we have been asked, "How does a person, Group or Convention Committee go about setting up a Back to Basics Workshop, Seminar or Conference."

Actually, it is quite simple.

All that is required is the willingness to do a little planning and to spend a little time organizing the event.

Telephone, fax or e-mail Faith With Works Publishing Company and tell us when (the date) and where (church, club, school auditorium, etc.) you would like to hold your event, and who the contact person is. Our only requirements are that the location be non-smoking and have a way to present using PowerPoint materials (a multimedia projector) (The PowerPoint CD is a replacement for the 35mm slides that became obsolete years ago). We will check the Back to Basics schedule and if the date is open, we will pencil your event in as a "tentative" booking. Once you have received the necessary approvals from your Group or Committee, please confirm your request for a Back to Basics presentation in writing. At that time we will change the booking from "tentative" to "firm."
Once the details have been worked out, we ask that you send us a flyer for the event and keep us posted on any changes that may take place (location, time of day, etc.). We will post the flyer on our website page titled "Upcoming Events".
There are no fees for a Back to Basics Workshop, Seminar or Conference. All we ask is the standard reimbursement for airfare, food, lodging (we prefer to stay in someone's home) and incidental expenses (airport parking, tips, copying costs for the eight Back to Basics handouts, etc.).
These costs are normally covered by either passing the basket or by charging a nominal admission fee. Many Host Groups and Committees also sell the Back to Basics and How to Listen to God books to cover expenses. We provide the books on consignment at our cost (one half the retail price), and the Host Group or Committee keeps the difference between the selling price and the cost.
If you have any questions or need more information, contact Wally P. at the office address, fax number or email address listed below.
Faith With Works Publishing Co.
P.O. Box 91648
Tucson, AZ 85752-1648
(520) 297-9348 (TEL)
(520) 297-7230 (FAX)
Email:
webmaster
@aabacktobasics.o
rg