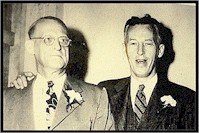 The primary objective of Back to Basics is to provide the recovery community with meeting formats that are historically accurate and replicate those conducted in the 1940'and 1950's when A.A. experienced a 50-75% recovery rate from alcoholism. For the most part, these formats have been lost to the fellowship. After many years of research and numerous old-timer interviews, it has become clear that there was more to the "Original" A.A. program than just Beginners' Meetings. (And let us once again state that Open Discussion Meetings were NOT part of the "Original" program.)
In the 1940's Big Book Studies (Closed Discussion Meetings) and Guidance Meetings (a carryover from the Oxford Group Meetings of the 1930's in which Bill W., Dr. Bob and the A.A. pioneers got sober) were an integral part of the process of obtaining and maintaining contented sobriety. They provided an environment in which to learn more about A.A.'s "design for living" and to build upon the spiritual foundation on which the entire program is based.
So, in actuality, the Back to Basics program consists of three meeting formats from the 1940's:
Beginners' Meetings in which newcomers take all Twelve Steps in four one-hour sessions.


Big Book Studies in which attendees discuss, in detail, the passages from the Big Book that are used to conduct the Beginners' Meetings. These meetings are designed for Home Group members who have a solid, working knowledge of the Steps and the process used to guide the newcomer toward the spiritual solution to alcoholism.


Eleventh Step "Guidance" Meetings in which attendees practices prayer and meditation by getting quiet, writing down the guidance that comes, and sharing that guidance with the group.
In the near future (May 2002), we will provide examples of the formats used for the Big Book Studies and the Eleventh Step "Guidance" Meetings
Read more about the Evolution of the A.A. Beginners' Meetings here.
.